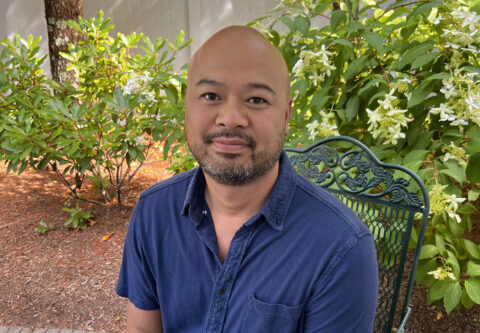 We are delighted to announce our 2023 Poetry Contest Winners! Oliver de la Paz has chosen the following:
For Honorable Mention "Overhearing your native tongue in a foreign land" by Joseph Scalice
For Third Place "In Case I Ever End Up on a True Crime Podcast" by Kelli Lage

I enjoyed the gallows humor of this piece, but also the sharp lyrical twists of it with lines like "Songs I played in the background pierced tongues" and the opening line, "Sun did not earmark me its stunt double…" Everyone is a suspect and the speaker, at the center of the drama, suspects everyone and invites the reader to share in secrets and conspiracies. A fun and lyrical poem.
For Second Place "You're from Nowhere" by Abby E. Murray
The If/Then construction of the poem serves as the fulcrum for its lyric beauty, and I love how the speaker takes us through backroads and zip codes here and there across the landscape. Ultimately, the poem's shift towards definition also creates a source of tension as the wisdom of and acknowledgment of a place also invites the sharpest scrutiny.
And finally, for First Place "Tree Streets" by Josh Jacobs
The poem evokes an idyllic and pastoral time, when tall trees shaded the neighborhood streets and the sounds of children rebound from beneath the canopy. But the poem then folds in on itself and asks what is that memory? With tenderness, the poem examines what had once been expected, examining aspects of gender and knowledge, determining what is undetermined, and reexamining what had once been doctrine. With tenderness, the poem urges us to know that deep in the roots twining below our feet, what is vital is how we hold one another aloft.

These poems will be published in our next issue, forthcoming in late June.
Oliver de la Paz is the Poet Laureate of Worcester, Massachusetts, for 2023-2025. He is the author and editor of seven books: Names Above Houses, Furious Lullaby, Requiem for the Orchard, Post Subject: A Fable, and The Boy in the Labyrinth, a finalist for the Massachusetts Book Award in Poetry. His newest work, The Diaspora Sonnets, is forthcoming from Liveright Press in 2023. With Stacey Lynn Brown, he co-edited A Face to Meet the Faces: An Anthology of Contemporary Persona Poetry.
A founding member, Oliver serves as the cochair of the Kundiman advisory board. He has received grants from the NEA, NYFA, the Artist's Trust, the Massachusetts Cultural Council, and has been awarded multiple Pushcart Prizes. He teaches at the College of the Holy Cross and in the Low-Residency MFA Program at PLU.
(Photo credit: Meredith Pugh)